Pay only $1 per report with WebPathLab's PAY-PER-REPORT fee schedule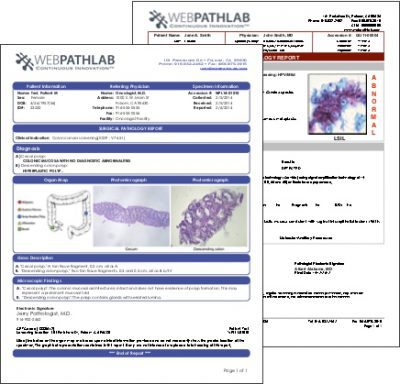 WebPathLab offers a PAY-PER-REPORT fee schedule initially designed for small volume and start up labs.
The installation fee is $4,999 (for the AP and Report Viewer modules only)
Monthly software usage is $1 per report which includes free technical support and free upgrades so you are always up-to-date
As the number of reports grow, the customer has the option to upgrade to the Licensing fee schedule which has an unlimited number of reports for a flat fee per pathologist.
The PAY-PER-REPORT fee schedule also includes a monthly fee for server co-location at a HIPAA compliant data center, server maintenance, hardware upgrades, software technical support, and free updates of the solution.
For more information on our pricing sturcture, please contact us at info@webpathlab.com or call us toll free at 855.210.4012
Email: info@webpathlab.com
101 Parkshore Dr. Folsom, CA 95630
Anatomic Pathology
GYN Cytology
HL7 Engine
Management Reports
Auto Image Uploader
Remote Print
GU Auto Organ Map
Specimen Tracking
TC/PC
Molecular