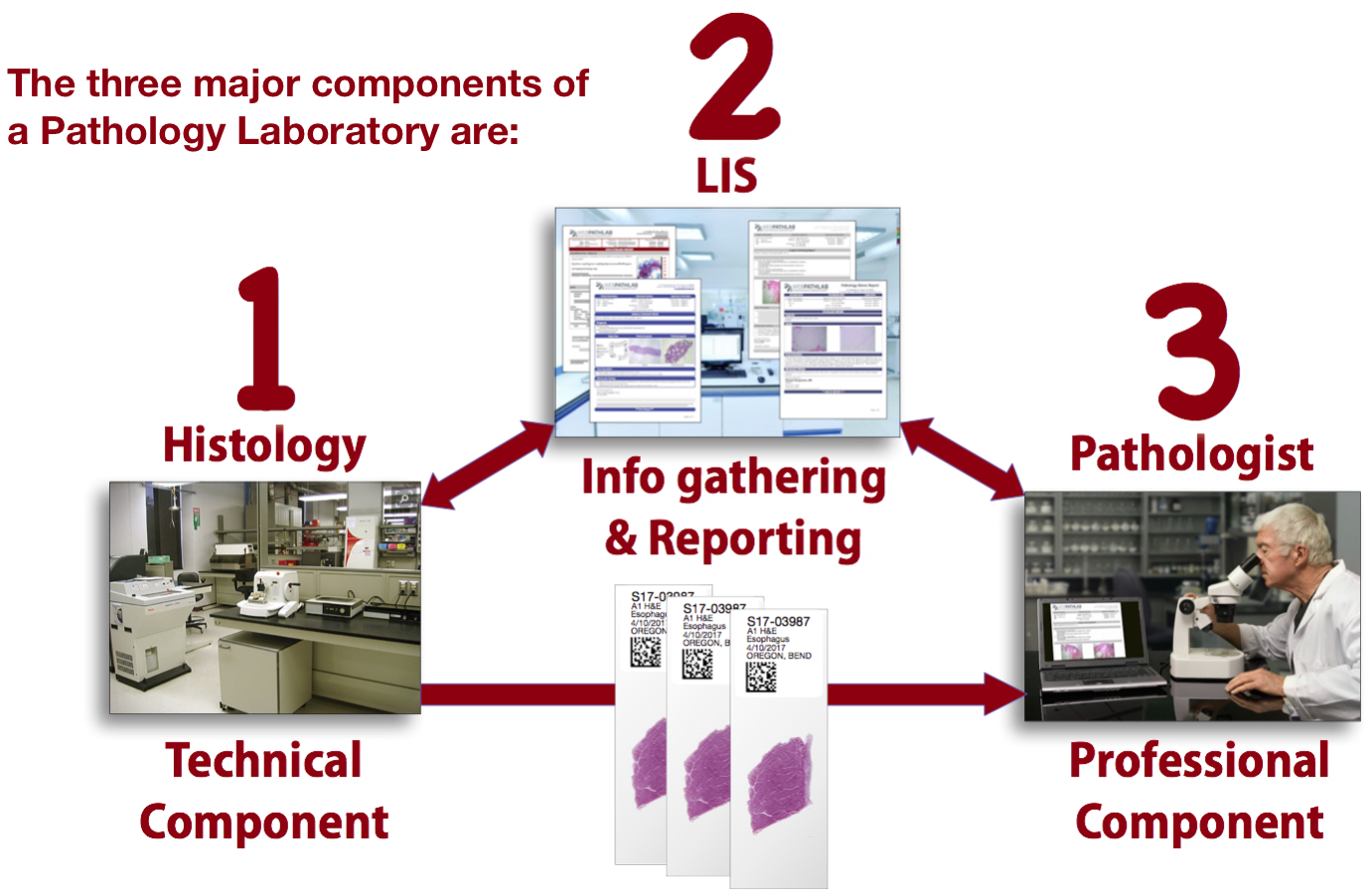 Histology, the Technical Component – Receives the specimens, prepares the slides, enters all information into the LIS and delivers that slides to the pathologist.
WebPathLab, a web-based LIS – The histology lab enters all pertinent information into WebPathLab and when the case is ready, makes it available to you, the pathologist, to access it, generate the pathology report and deliver it to the referring physician via auto Fax, Remote Print, Online with a web viewer and/or via HL7 interface.
Pathologist, the Professional Component – Receive your slides, read them and using the LIS provided by WebPathLab, generate the pathology report with your corporate identity.
How it works
1. The Histology Lab – JIT Labs
After you sign up with JIT Labs, they will pick up all the specimens from your referring clinicians, process them and prepare all the H&E slides. They will enter all the clinical and demographic patient information into WebPathLab (the LIS) which will be available to you once the technical component is complete. All paper requisitions and/or hospital face sheets will be scanned, uploaded, and attached to each corresponding case so you, the pathologist, have access to the complete patient information. There will be a flat fee per H&E slide. As soon as you receive the slides, the case will be available on WebPathLab for you to enter all the diagnosis information, upload photo micrographs, and finalize the report. You will also be able to order special, IHC, and FISH stains from JIT Labs using WebPathLab. All of your reports will remain available to you on the system.
For information contact Mrs. Tammy Schwalb at 949.856.0291 or email tammy@jit-labs.com
2. The LIS – WebPathLab
After you sign up with WebPathLab Inc. you will asked to provide them with your corporate identity, including your logo, your address and any other information specific to your identity.
WebPathLab will integrate that information into the pathology report format of the JIT-Labs LIS system to be used only by you. There is a one time $1,000 integration and set up fee to set you up in the WebPathLab system. You will be able to upload canned text for all the sections of the pathology report.
The usage fee is $1/report so you only pay when you make money. There is also a $150/month for server co-location, maintenance, technical support and free updates at a HIPAA compliant data center.
View a short video on the Sign Out Process of reports
View a short video of the Report Viewer where the referring physicians can access the reports online.
For information on the LIS contact Mr, Peter Williams 916.542.1386 or email info@webpathlab.com
3. The Pathologist
All you need is a microscope, a computer and a desk and you can begin your own laboratory. Perfectly suited for hospital based pathologists who are starting an out-patient business. Access the LIS from any internet capable computer with the proper authentication.